Singles Night Pottery Class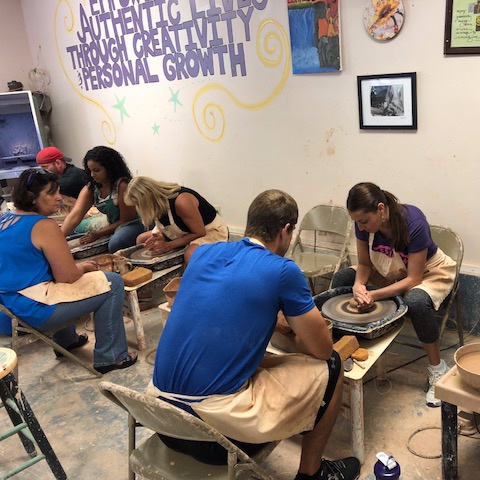 Singles Night Pottery Class
Fridays | 6:30-8:30 PM
A night out of fun and creativity just for singles. Your alternative to boredom, bars and blues. Come laugh and play with clay!
Every Friday Night the Voice of Clay will be hosting a Singles Night. Always wanted to try the potter's wheel? Here's your opportunity without a long commitment. In this class you have the opportunity to experience throwing on the wheel (two people to a wheel) but please note: If you decide you want to keep any pots you make there will be a cost of $10 per piece.
You are welcome to BYOB and snacks.
To Our Groupon Users*: After you have purchased your Groupon please allow 24 hours processing time before booking your Singles Night class date with us. If you continue to experience problems after entering your Groupon Code at check out please email us at infovoiceofclay@gmail.com and include your Groupon Voucher Code.
*Groupon users please note, when you register for Singles Night your Groupon will get redeemed. If needed, you may reschedule 48 hours in advance. We can only accommodate rescheduling your class once. Please see our cancellation policy.
To Register/Redeem your Groupon Code: Select the date and number of people your Groupon is for. Once you add it to your cart a form will open up. Please add the names of the participants attending. Once complete you will see whether or not there is availability for you and your participants. If not, please choose a different date. Upon checkout apply your Groupon Code to redeem.
Additional Notes: The class you select may have recently filled up. In the event that you have selected a full class, we will email you within 1 day find a different date.
Each pottery class is geared toward the experience of clay and the truth is that when working with clay sometimes pots break. There is never a guarantee that a pot will survive the firing process, much less handling to and from the kiln or even glazing. If your pot gets broken you will receive a refund for the $10 cost per pot. You will not be offered another class free of charge.